Questions about running the Mount Dora Half Marathon? Check out our helpful infographic for the most common FAQs we hear. Below you'll find additional information and other important FAQs about running a half marathon. If you don't see your question or want additional information about running the Mount Dora Half Marathon, contact us!
Mount Dora Half Marathon FAQs [Infographic]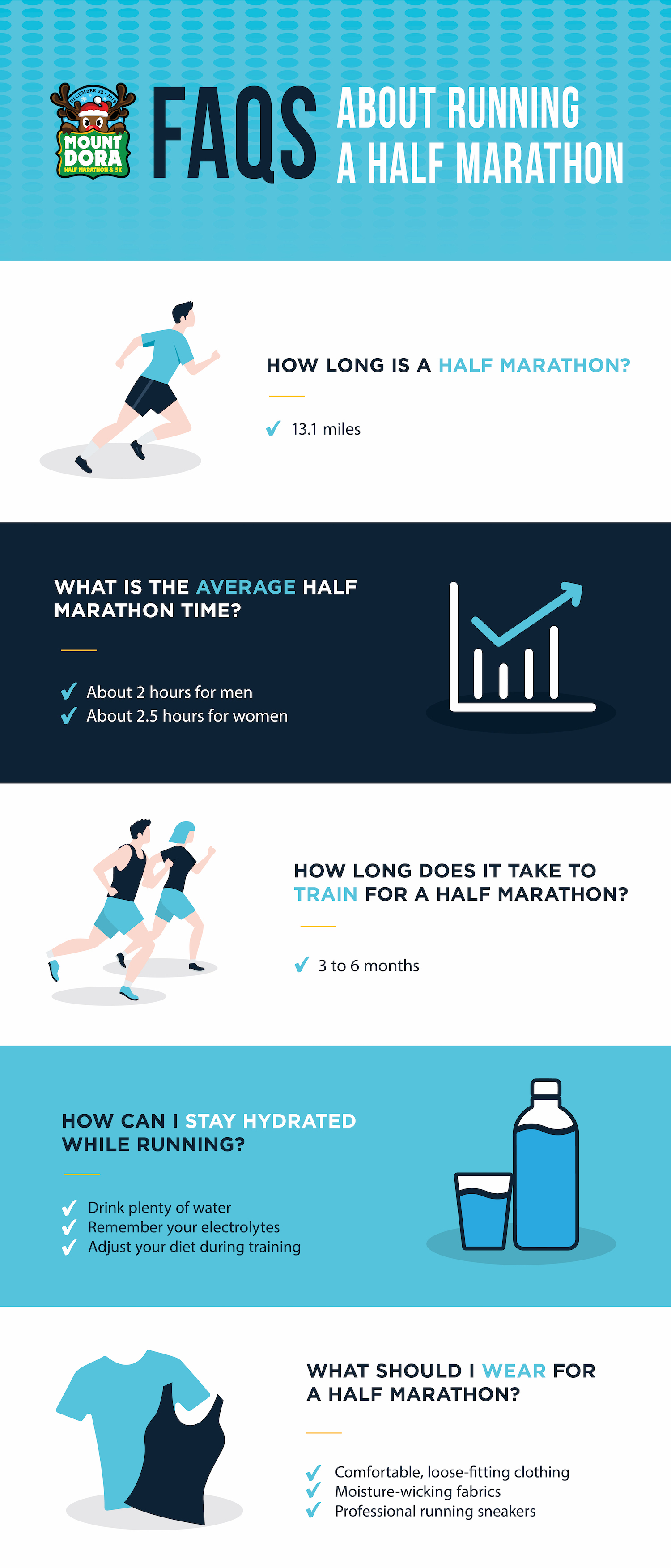 How long is a half marathon?
A half marathon is about 13.1 miles. If you've never run a marathon before, check out our guide to running your first half marathon.
Can I run a half marathon?
Yes—as long as you don't have a medical condition that would prevent you from being physically able to run a half marathon and you are physically prepared for the race, you can run a half marathon. All it takes is dedication to fueling and training your body for long distance running.
What is a good time to run a half marathon?
The average half marathon time for a person in good shape is about two hours for men and about two and a half hours for women. You can check out our race results to see our fastest male and female half marathon runners from each year.
Should I join a training group for runners?
It's not necessary to join a running group to train for a half marathon, but we do recommend it. Run training with a professional coach can help you get in shape, stay motivated, stick to your training schedule, and reach your running goals.
How long does it take to train for a half marathon?
For many runners, including some newbies, it takes about three months of dedicated training to run a half marathon. For the average new runner, it can take up to six months to be fully prepared for a half marathon. Some experienced runners who have already run a half marathon (or a full marathon) may be able to train for a half marathon in as little as six weeks.
Should I run with a cold?
Every person's body reacts differently to colds and requires different amounts of rest and care to recover. Many runners find that running with a head cold actually helps them feel better because it helps clear their nasal passages, at least temporarily. According to Cordelia Carter, M.D. (the director of the Women's Sports Medicine Center at NYU-Langone in New York), it's "generally okay to run with a cold, but it makes sense to scale back your typical duration, frequency, and intensity of it." That being said, if your cold symptoms live in your neck and below, it would be wise to take some time off from running to recover.
What if I get a cramp while running?
Slowing down and exhaling can help you recover from a side stitch cramp. Leg cramps are another story. Depending on the intensity, you may have to stop running and stretch or massage the location of the cramp. If you make sure to eat mindfully before runs, properly warm up, and regulate your breathing, you'll likely be able to consistently avoid cramps while running.
What should I wear for a half marathon?
In general, you should wear comfortable, loose-fitting clothing that are easy to run in. Many runners prefer moisture-wicking fabrics for their shirts, shorts, and socks. You'll also want to invest in a solid pair of professional running sneakers and determine early on if you'll need inserts to make them even more comfortable for the long distance.
There's a popular mantra among half marathon runners: "Nothing new on race day." Find your favorite gear that you know is comfortable and make sure you train in it so your body is used to the feeling come race day. Also keep in mind that while Florida is known for being sunny year-round, it may be a cool and rainy morning when the race starts. To be safe, you may want to have some clothing options for running in cooler, wetter weather as well.
How can I stay hydrated while running the half marathon?
Staying hydrated while running is super important during a half marathon. This is especially true in warmer climates like Florida, even if you're running one of the December half marathons. Check out our blog on the subject for six important tips for staying hydrated while running.
What is the Mount Dora Half Marathon route?
The Mount Dora Half Marathon route is a scenic trip around the beautiful historic lakeside town of Mount Dora. You can find the exact half marathon route here.
How long do I have to run the Mount Dora Half Marathon?
All participants have three and a half hours to complete Mount Dora Half Marathon. After that time, the roads will reopen to vehicles at 10:30 AM to comply with city permits. All finishers who complete the race within three and a half hours will receive medals and official finish times.
What support do you have for runners during the Mount Dora Half Marathon?
During the Mount Dora Half Marathon, we provide aid and water stations (some with Gatorade), bathrooms, one gel station, finish line food, and other support such as a pacing team and course marshals to provide the best experience for all registered runners. You can see the exact locations of each station on our printable half marathon route map.
I'm not from the area. Where should I stay for the Mount Dora Half Marathon?
There are several great options for nearby lodging. Check out our full list here.
How do I register for the Mount Dora Half Marathon?
You can register for the Mount Dora Half Marathon on our online registration page.